We are very pleased to announce the full draw for the 6th edition of our flagship Kent & Sussex Bonspiel. All 16 teams will play 5 six-end games across the weekend. Please note that only teams A,B,E,F,Q,R have a game on the Friday night. With so many teams taking part, there is a tight turn around between games and so all players must make sure they at the rink ready to throw first stones at the indicated start time.
Wins will be worth 2 points, with 1 for a tie, and ends then shots being used to determine any tie-breakers if necessary. Friday/Saturday "group play" will determine the ranking of the 4 teams in each of the red, yellow, blue, and green groups. On Sunday, these rankings will be used for the "playoff round" and "final round" until a winner is crowned and teams can be ranked all the way from 1-16.
---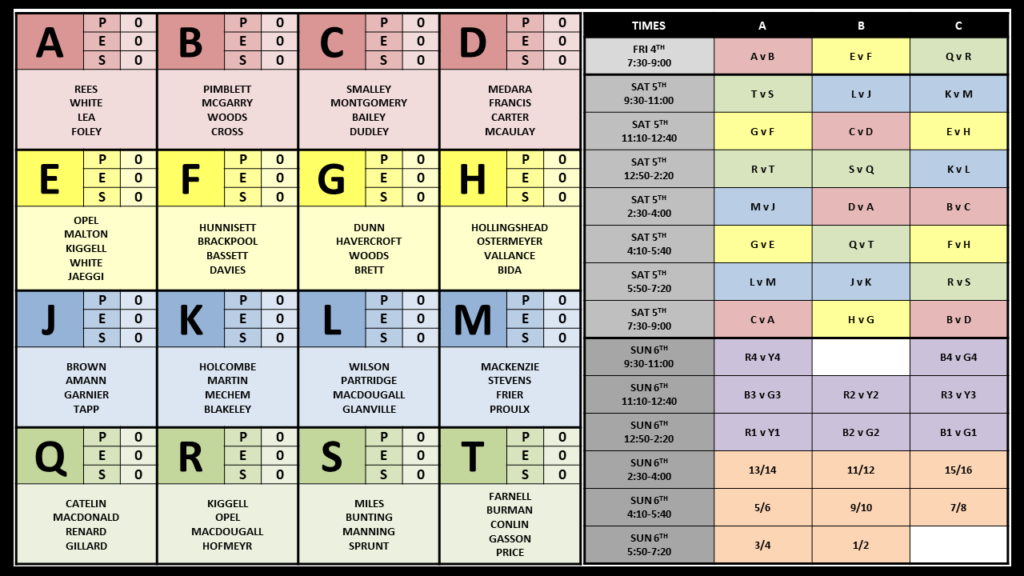 A hot lunch will be provided on both days:
Sat Feb 5th:
Lunch One – 1:00 – Teams A/B/C/D/G/H/M/J
Lunch Two – 2:30 – Teams E/F/K/L/Q/R/S/T
Sun Feb 6th:
Lunch One – 1:00 – Rank 3 & 4 Teams
Lunch Two – 2:30 – Rank 1 & 2 Teams
There will also be limited snacks and drinks available to purchase at the bar during the entire competition.
---
We very much look forward to welcoming everyone to the rink for a fun weekend!