STATEMENT FROM THE WORLD CURLING FEDERATION ON JAN 6TH 2022
After ongoing discussions with the Local Health Authorities from the city of Lohja, the Local Organising Committee and the World Curling Federation, it has been determined that due to concerns over the growing number of positive COVID-19 cases at the event, the World Junior-B Curling Championships 2022 will now be cancelled.
The men's competition was in its round-robin stage, however, with the positive cases being confirmed by PCR testing, and in order to guarantee the safety of our athletes, staff and volunteers, the World Curling Federation, on the recommendation of the Local Health Authorities, has made the difficult decision that the event can no longer continue.
The women's competition scheduled to begin on Monday 10 January will also be cancelled.
---
Good luck to the England Junior Men & Junior Women competing at the World Junior B Curling Championships in Lohja, Finland. Many of them are South Of England Curling Club members who learned the game playing in our junior programmes, school programmes, as well as a range of leagues and bonspiels. We know that they will do everyone proud and we will be cheering them all the way! In this post, we will be updating the scores after each game in the space below.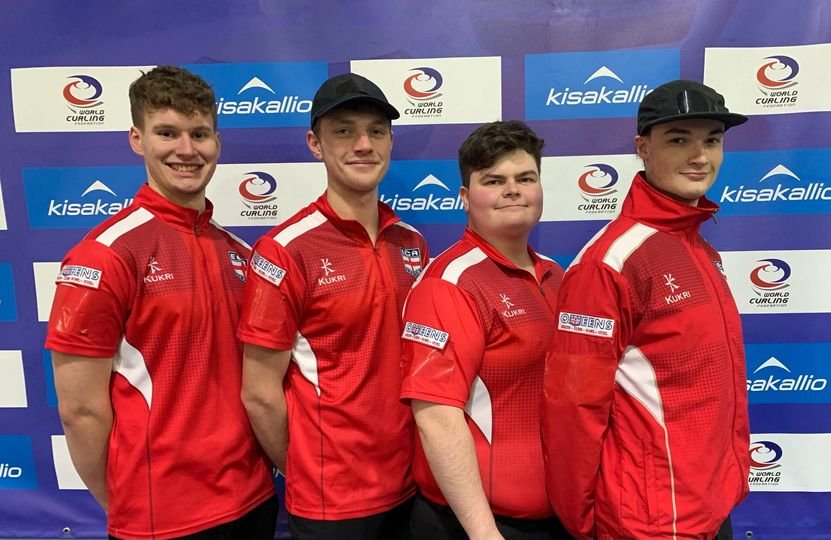 England Junior Men: Harry Pinnell, Archer Woods, Felix Price, Joe Sugden
Men's Fixtures (all times UK times)
January 3rd v Austria – W 10-5
January 4th v France – W 5-3
January 4th v Kazakhstan – W 5-3 – CLICK HERE TO WATCH ON YOUTUBE
January 5th v South Korea – L 8-4
January 6th v Japan – L 9-2
England Junior Women: Phoenix Davies, Anna Howey, Mia Andell, Annabelle Martin, Sydney Boyd
Women's Fixtures: (all times UK times)
January 10th v Spain @ 7 AM
January 10th v Czech Republic @ 12 Noon
January 11th v United States @ 12 Noon
January 12th v Scotland @ 7 AM
January 12th v Croatia @ 5 PM
---
For more information, you can follow on the World Curling Federation site specific for this event: https://worldcurling.org/events/wjbcc2022